Undone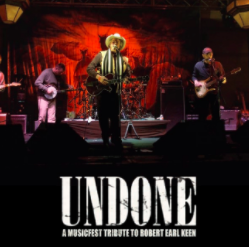 A MUSICFEST TRIBUTE TO ROBERT EARL KEEN
One of Robert Earl Keen's biggest charms both onstage and off is his regular guy modesty. So when MusicFest chose to honor him last year as part of its annual "Tribute to a Legend" series, he admits with a chuckle that at first he was "kind of stunned. And then I wondered: What are they wanting to do here? Are they trying to get me out of the way?"
Hardly. Though Keen may not be ready to consider himself a legend and rest on his laurels, an entire generation of Texas and Oklahoma musical artists as well as his fans know just how pivotal he is to the now thriving music scene that followed in the wake of Keen's rise to prominence out of the Lone Star State in the early 1990s. And the live recording from that January 2008 show, Undone: A MusicFest Tribute to Robert Earl Keen, salutes his historical impact and influence through the power of his songwriting.
On the two-disc, 27-song set, Texas/Red Dirt music scene luminaries including Cory Morrow, Cody Canada, Reckless Kelly, Randy Rogers, Roger Creager, Brandon Rhyder, and Jason Boland–along with Idaho-based Western music stalwart Muzzie Braun, Kentucky-bred Texas favorite Chris Knight and numerous other artists–bring their musical talents and admiration for Keen to 22 of his compositions. Rounding out the collection are five numbers by Robert Earl and his band, including his never-before-recorded song, "Goodbye Cleveland." Undone includes a special 20-page booklet that features testimonials from Keen; Dr. Gary Hartman from the Center of Texas Music History at Texas State University; and John Dickson, MusicFest/Right Ave. Director. The packaging also includes the live on-stage commentary from Keen and the other artists which highlights the live experience.
Undone amply attests to Keen's songwriting talents, which along with his savoir faire as a performer were the sparks that ignited the Texas/Red Dirt music movement.
Like such songwriting icons before him as Townes Van Zandt and Guy Clark as well as his contemporaries like Steve Earle, Nanci Griffith and his Texas A&M college pal Lyle Lovett, Keen followed the generally accepted route to career success by heading from Texas to Nashville in the 1980s to ply his wares via the Music Row system. But when his music didn't fit there, he returned to his native state.
Initially planting his Lone Star flag of musical independence in the front room of Gruene Hall with a Sunday afternoon residency, Keen began forging a performance circuit throughout the region and beyond while building his band and releasing his own independent albums before this was a common avenue to take. By the mid-1990s, he had become one of the hottest musical acts in Texas and a leading light of the emerging Americana music movement nationwide, and such esteemed acts as The Highwaymen and Joe Ely had both recorded his signature song, "The Road Goes On Forever."
"I wasn't really aware that I was doing anything other than playing as much as I possibly could," Keen recalls. "So when my career took off, it was a real surprise".
"Then when there was such a huge group of people who said that they came to my shows and that's what got them going, that was an even bigger surprise," Keen says.
Wade Bowen explained on stage during the tribute concert that after seeing Keen play for the first time he "decided right then and there I wanted to do this with my life and write songs." That phenomenon started with college students like Jack Ingram in Dallas and Cory Morrow out in Lubbock, who were followed by a watershed of singing and songwriting talents from across Texas and Oklahoma. All of them were motivated to grab a guitar, start writing songs and take the stage thanks to Robert Earl Keen. He had changed the equation for achieving success as a Lone Star singer-songwriter.
On Undone, a number of the artists Keen inspired pay him homage and offer thanks for showing them the way and cultivating a scene in which budding songwriters can succeed and thrive, just as Keen did. In his typical self effacing fashion, he confesses that he felt "mixed reactions to the whole thing until I was sitting there listening to them play these songs. It was an outstanding show, and emotionally overwhelming to hear them do my songs better than I ever did."
There is a wealth of material to be enjoyed on the album, lovingly rendered by Keen's admirers in a fashion that breathes new life into his classics. Vivid songs peopled by unforgettable characters; tender and emotive numbers that reach the deepest places in the heart; and crowd-rousing good time songs that match their rowdiness with a cautionary subtext.
The distinctive spirit of Texas and the Southwest resonate throughout Keen's carved-from-oak solid compositions. His back porch storytelling eloquence once again confirms his major contributions to the Lone Star songwriting tradition.
Undone not only documents a once-in-a-lifetime gathering of talent, but also benefits The Center for Texas Music History from its proceeds.
Link to Purchase Here